About the Artist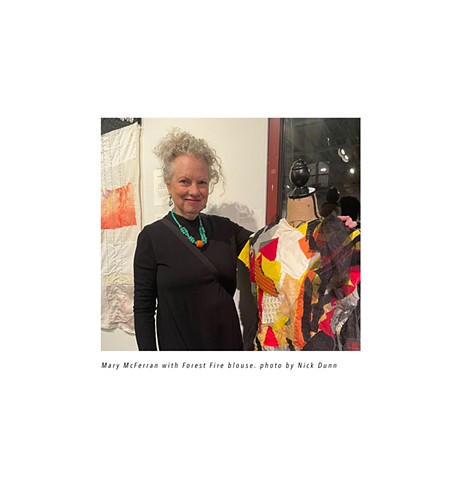 About the Artist
Challenging conventional notions of sewing and drawing, Mary McFerran creates art work from cloth and paper to tell stories about women, climate change, history and personal memoir. Her style heralds expressive color, collage and mark-making, alternating stitches with pencil and paint lines. McFerran prefers to incorporate up-cycled fabric remnants and discarded artwork for her hybrid constructions. She is interested that they feel softened by former lives and that she may be doing a small bit towards conservation.
In earlier years, McFerran was a video artist and participated in the art scene of Manhattan's Lower East Side. She took a break from art-making to raise her children and work as a technology coordinator.
McFerran has degrees in Fashion, Art Education, Printmaking, Expanded Arts, and Educational Technology. She shows her work in NYC and the Hudson Valley. She is currently a member of BAU Gallery in Beacon, NY.